In the Pre-Columbian cosmology, human and other zoomorphic beings are equally transformative and spiritual, who serve as mortal forms of the divine nature. Part anatomical, part transcendental in its fluidity, the floating body parts and facials represents a vital link to the Pre-Columbian visual lexicon that transfers the spiritual powers to the works' owner.

The owl was widely symbolic in the Pre-Columbian world. Owls were considered Shamanic, guiding humans on their journeys to other world, the divine, and the death. As a nocturnal bird of prey, the owl was also associated with night hunters, seeing in darkness and the Underworld of the spirit.

ONE VALDIVIAN OWL EFFIGY
Height 20cm, c.3500~2500 BC
PH0118
ONE VALDIVIAN OWL EFFIGY
Height 30cm, c.3500~2500 BC
PH0152


Its timeless abstract aesthetic is so in tune with our modern sensibilities despite the fact that it is over 4,000 years old, that legendary collectors across all periods have been avid admirers of these ancient hidden gems.


(Image: "Confluences," (2009), published Paul Hughes Fine Arts, p22~23)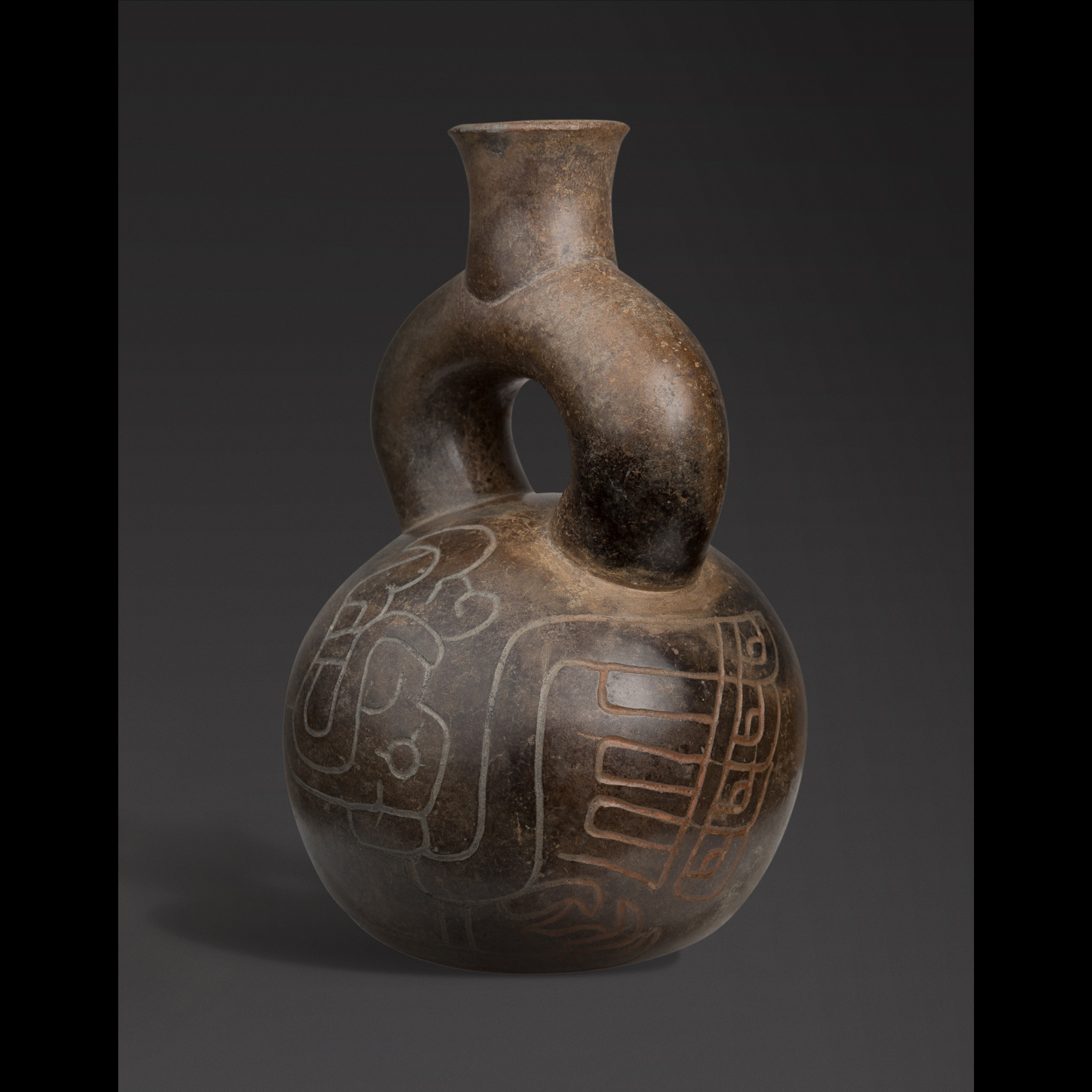 CHAVIN CERAMIC
Blackware, Chavin culture
28 x 16 x 16 cm, c.500 BC
PH0101
This vessel with incised feline deity, face, body and hands on one side, curvilinear devices on the reverse. The arts of the Chavín is full of imagery of felines (especially jaguars), snakes, and raptors, as well as supernatural beings, often with ferocious-looking fangs.

Creatures are often transformational - presented in two states at once - and designed to both confuse and surprise. Images are also very often anatropous - they may be viewed from different directions. Felines in Chavín art and culture were associated with the ruling houses. In nature, such animals are often excellent hunters who occupy the top of the food chain, qualities that were also valued in human rulers. Felines, like jaguars and pumas, were also thought to enjoy great spiritual force; shamans were believed to transform into such creatures.

Chavín ceramic art is known for its complex iconography and its "mythical realism". There is consistent evidence within all types of art (ceramics, pottery, sculptures, etc.) of human-animal interactions, which was reflective of societal interconnections and how the Chavín people viewed themselves connected with "the other world."
THE FISH, THE BIRDS and SHAMANISM
TRIPPED OUT FACE CERAMIC
Ceramic, Moche culture
29 x 18 x 7 cm, c.1000 AD
PH0093
This powerful Moche ceramic is a fully hallucinogenic imagery associated with a set of universal and redundant sensory phenomena which often include the appearance of anthropomorphic and zoomorphic images of fish, birds and felines. These are most probably resulting from drug intoxication, a ritual commonly associated with Moche shamans in order to achieve ecstatic communion with their spirits. An excellent example to highlight the intrinsic connection between the natural world and the human world as continuously portrayed by the Pre-Columbia Andean.