Dear Friends,

It gives us great pleasure to be able to exhibit these timeless masterpieces at these challenging times.

From our offerings of these prime museum quality resplendent ancient feather works to our good fortune in being able to offer a group of painted works, all are rarely seen in the marketplace.

In our belief that "all art was once contemporary" I hope you share in this wonderful journey of humankind endless creative quest.

Kindest wishes,

Paul and Yisi
Nazca-Huari Feather Textiles
Feathers were a rare and valued commodity imported from the Amazonian basin into the Pacific coastal regions. The journey in those times to collect the bundles from the forest tribes was not only arduous but also perilous. Such feathers being a great luxury were only worn by the dignitaries, priests, and warlords as symbols of status and power.
Large Feather Panel, c. 600 AD
Huari culture, size
Camelid fibres, feathers
PH0163
From an aesthetic point of View, Andean feathers works speak more eloquently for themselves than a thousand words. It should, however, be pointed out that their sacredness was not a function of their rarity but rather, by association with the Celestial messenger, the Condor—Eagle, the wearer shared the supernatural powers of this divine intercessor, guide of the souls to the mystical realm of light.

Its timeless artistic quality also attracted the attention of numerous creative thinkers, from the Albers of the Bauhaus school, Max Ernst and Dorothea of the Surrealist movement, to contemporary artists such as Damien Hirst, Bruce Chatwin, just to name a few.

(Image: "Confluences," (2009), published Paul Hughes Fine Arts, p72~73)


For this year's Frieze Online Viewing Room, we bring together a selection of museum quality textiles in a variety of styles, truly revealing the versatile technicality and complex symbolism of the Pre-Columbian cultures.
Large Feather Tunics in Abstact Style, c.200 AD
Nazca culture, 180 x 130 cm
Camelid fibres, feathers
PH0174
Small Nazca Feather Panel in Abstract Style Nazca culture, c.500 AD
Size
PH0212
Small Nazca Feather Panel in Abstract Style Nazca culture, c.500 AD
Size
PH0213
Small Nazca Feather Panel in Abstract Style Nazca culture, c.500 AD
Size
PH0218
Nazca Mini Effigy Feather Tunic
Nazca culture, c.500 AD 40x 30 cm, camelid fibres and feathers
PH0222
Small Feather Coca Bag in Abstract Style Nazca culture, c.500 AD 28 x 25 cm, camelid fibres and feathers
PH0220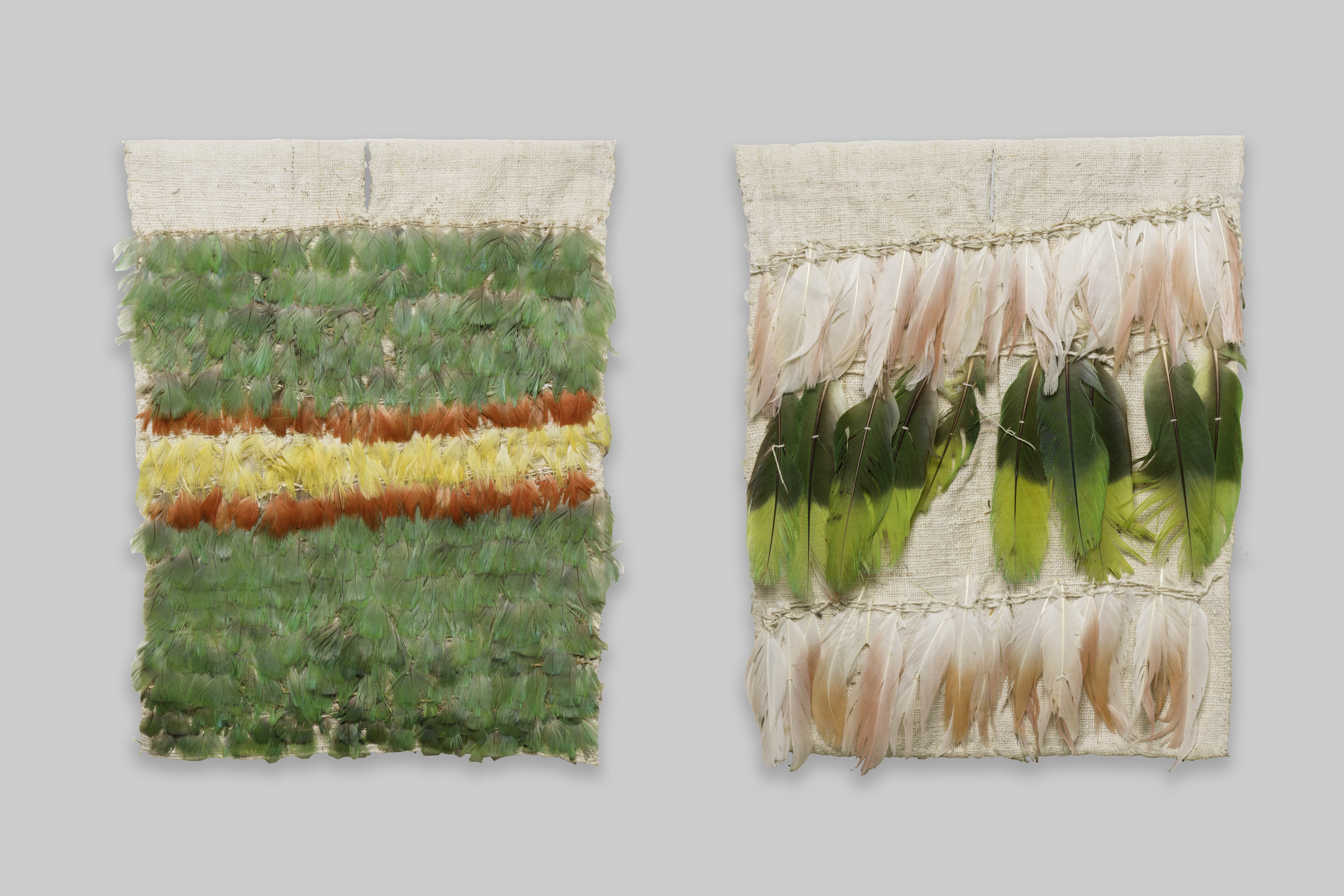 Huari Feather Mini Tunic in Geometric Style Nazca culture, c.500 AD 39 x 35 cm, camelid fibres and feathers
PH0207
Huari - Chancay Painted Textiles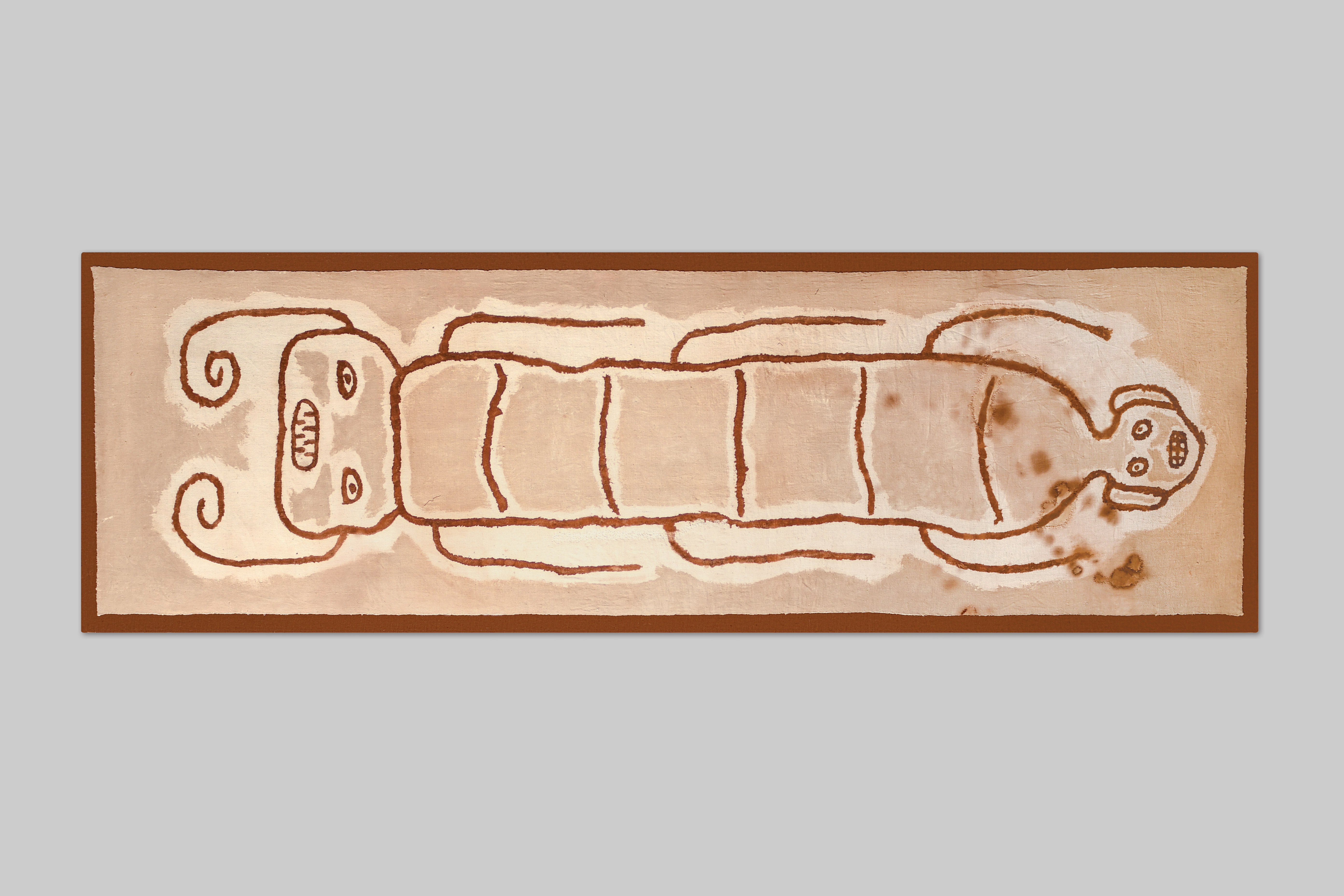 Pachacamac Janus Headed Painted Textile, c.1200 AD
Pachacamac culture, size
Pigment on camelid fibres
PH0204
The ancient Andean artists were masters of comedy, perhaps divine comedy, which is epitomised in painted textiles from the Huari/Chancay culture. The practice of painted textiles has transformed into the abundant sense of humour with its free-of-perspective figurative rendering in the most delightful and child- like manner.

Many anthropomorphic rendering found in painted textiles, such as the two arms up-raised figures or the Janus headed centipedes are a continuation from the icon "the Ocucaje object" of the Ocucaje culture in 100 BC.

However, its method of execution--painted pigment on cotton--allows a rather freestyle and celebratory manner of representation that is typical of the cultures. The decorative elements surrounded the figures might refer to a diversity of patterns found in woven textiles in the pre-Columbian period.

The beauty and originality of Chancay painted textiles also resonates greatly with the masterpieces in 20th centuries. Notably, European modernists such as Joan Miro, Paul Klee, and the Albers were familiar to these collections.

Similar examples could be found in the study collection of Anni Albers, an instrumental figure in the development of Bauhaus, American modernism and Fiber Arts throughout the 20th century. Anni made several trips to Mexico and Peru during her professorship in Black Mountain College, and helped built some of the most important Pre-Columbian collections in the U.S., such as the Harriet Engelhardt Collection in the 1950s, and the Josef and Anni Albers collection.

(Image:888)
Huari Painted Textile, c.800 AD
Huari culture, 140 x 140 cm
Pigment on camelid fibres
PH0184
Chancay textiles are extraordinarily varied and are almost without exception executed in a virtuoso manner. From gauzes and openwork embroidery to painted plain weave and tapestry, the most challenging avenues were explored. Openwork, ultimately derived from the ancient coastal fishing tradition of net making, reached new heights of lacy intricacy. On most gauze and openwork cloths, only the weaver could see the motifs during their creation because the threads pulled together when not under the tension of the loom. Hence, when the weaver removed the finished textile from the loom, its designs became illegible, especially if the piece was folded as in headcloths for women. This exemplifies the Andean values placed on essence over appearance.

Here we present a stupendous and immaculately preserved white openwork gauze weave with a repeating stylised human figures within square blocks.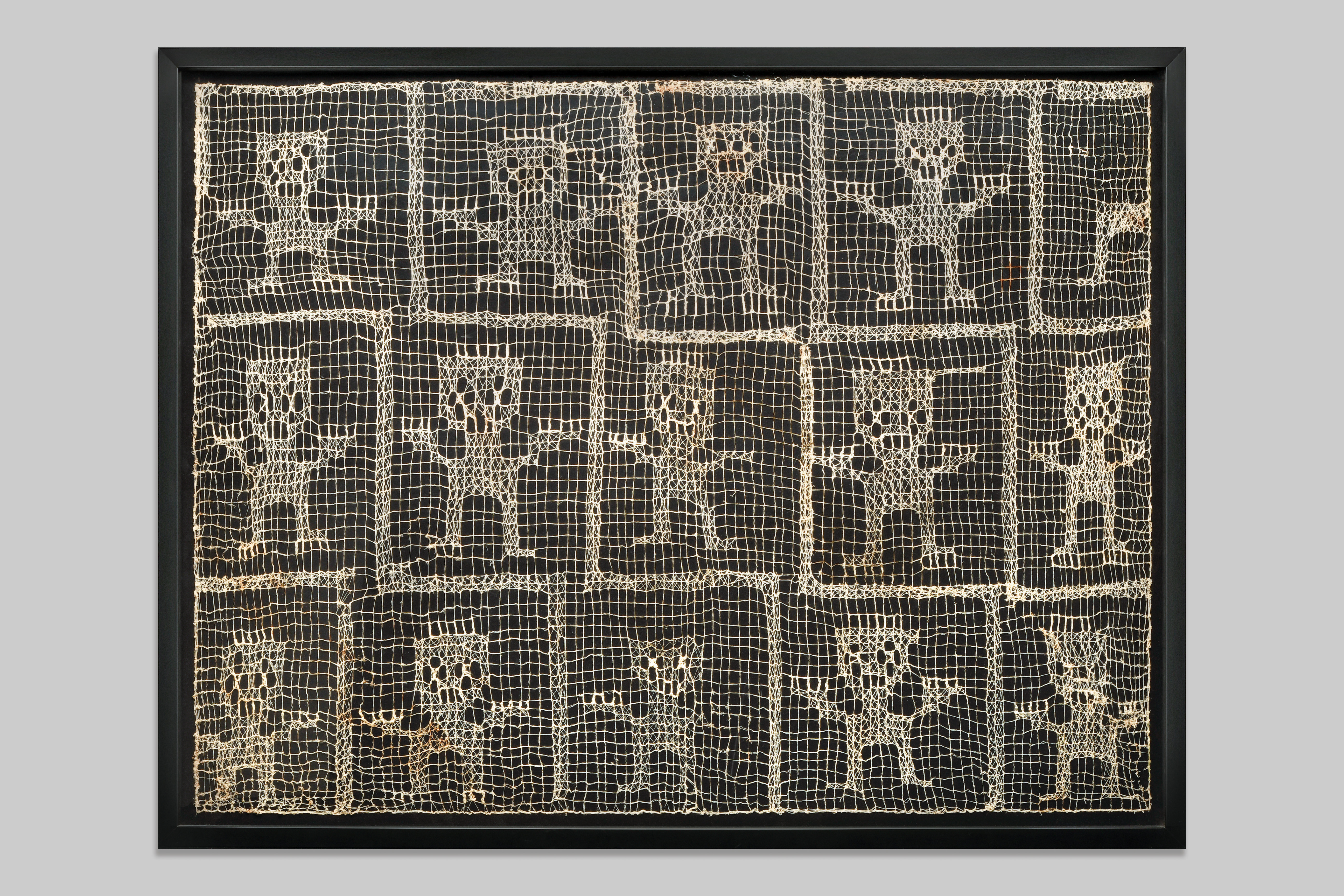 Chancay Gauze Weave Headcloth with 14 Anthropomorphic Figures , c.1000 AD
Chancay culture, 78 x 98 cm
Camelid fibres
PH0185
Chancay Lace Headcloth in Minimalist Style , c.1000 AD
Chancay culture, 88 x 88 cm
Camelid fibres
PH0305
This piece has, in particular, inspired a series of Agnes Martin's works, such as "'Geometry replaces nature, or becomes a different kind of nature' ...Friendship(1963)", as Martin herself is an avid collection of Pre-columbian minimalist textile in the Bay area.